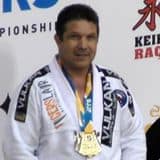 Pedro Diaz
Pedro is a Goju-Ryu Karate (Shodan), Daito Ryu Japanese Jiujitsu (Nidan) and Judo (Shodan) Black Belt under Ruben Font. He began training in Brazilian Jiu-Jitsu in 2004 and is a 1st Degree Black Belt under Gustavo Dantas. Pedro served in the US Navy Special Forces from 1982-1999 as a Chief Navy Diver. Pedro served in Mobil Diving and salvage unit 2 Expeditionary Combat Salvage and Explosive Ordinance Disposal Mobil Unit 12.
Pedro Diaz is the Owner and Head Instructor of Tigers Lair Martial Arts located in Gilbert, Arizona since the year 2009.
Pedro Diaz is married 28 years to Noemi Christina Diaz and has 2 sons, Pedro, who is a Purple Belt in Brazilian Jiu-Jitsu, and Christian, who is a Black Belt in Brazilian Jiu-Jitsu.
Pedro believes that one should seek perfection of character and that we are all connected to the individuals and families in our lives. It is all of our responsibilities to instill in our children the virtues of a good character and the positive impact it will have on their lives and that of their friends and families.
Pedro Diaz holds many different awards. Through the 70's, 80's and 90's he was the winner of numerous Karate, Kickboxing, and Boxing Championships. In 2009, 2010, 2011, 2013 and 2014 he was a PAN American Jiu-Jitsu Gold Medalist and in 2008 and 2009 he was a US National Jiu-Jitsu Gold Medalist. In October of 2013, Pedro won the Gold Medal at the World JiuJitsu championships.